free shipping within USA for orders over $60
About The Chaga Company
By: Gavin Escolar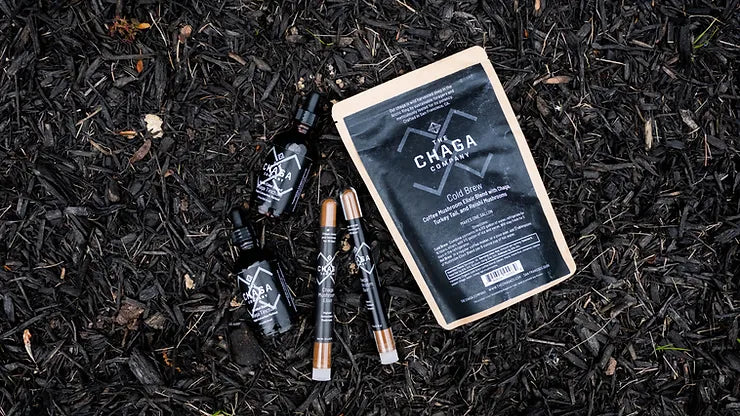 At The Chaga Company, we offer a wide array of chaga products to suit everyone's tastes and needs.
Chaga is a truly unique specimen in the world of mushrooms as well as herbal teas. Its appearance is unlike any mushroom you're likely familiar with. Found primarily growing on the trunks of birch trees, this mushroom looks peculiarly like a lump of burnt bark. However, this humble appearance hides a dynamic secret. Chaga has been harvested by humans for thousands of years, and the great respect herbalists have for this mushroom has earned it titles such as "The King of Mushrooms" and the "Diamond of the Forest". Birch forests around the world are known to be home to this remarkable mushroom, including Russia, Korea, some parts of Europe, and North America. The Arctic Alaskan regions are best for Chaga making The Chaga Company the premium choice for your Chaga needs.
Freshly brewed chaga tea imparts a smooth, earthy flavor that can be enjoyed alone or sweetened if desired. The Chaga Company caters to you naturally by offering fresh, wild harvested chaga in temperatures of -60 degrees, with no fillers, additives, or preservatives. Chaga tea is a convenient and tasty way to experience a natural energy boost without stimulants like caffeine. Unlike other herbal teas, ours is densely packed with nutrients.
The Chaga Company uses chaga located in Fairbanks, Alaska, and the mushrooms are handpicked from the remote Alaskan wilderness and only harvested between -65 degrees to -85 degrees Fahrenheit.
With the adoption of the green process of harvesting the mushrooms, the customers and environment are given the respect they deserve. The Chaga Company facility features a section for packaging the company's products with utmost care to ensure their content is not tampered with. Customer satisfaction is utmost essence to our business.
The Chaga Company provides high quality mushroom products by maintaining the right harvesting product standards in both distribution and production. It could be said that our company also respects the natural environment. The Chaga Company products have several medicinal properties, ranging from the antioxidant properties for a youthful look, and the phytonutrients and adaptogen properties for a healthier and longer life.